Complex IRS & Communal Aerial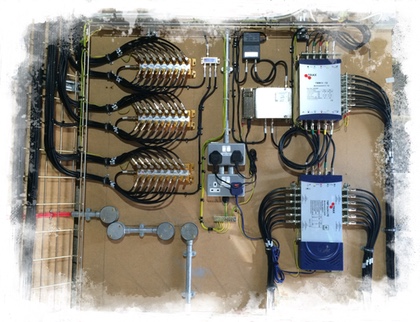 We provide full commercial support and installation for large commercial properties from multiple apartment blocks to Hotels or B&Bs.
Most large apartment blocks will have a complex IRS (Integrated Reception System). This consists of a master array such as… aerial, satellite dish and radio antenna sent to a "Multi Switch". This multi switch then distributes to all the apartments throughout the building (or rooms in a hotel) with master outlet sockets and sub sockets providing all the reception needs to watch TV or connect a satellite receiver such as Sky.
Smaller systems may only require a communal aerial distribution, such as B&Bs and houses of multiple occupancy. These systems often only require TV reception and a single feed to each room. This does still however require commercial level equipment and knowhow but is less expensive than an IRS system.
In both cases we can offer advice on a new complete installation and give a quote, fault find and repair (where possible) any issue with your current system or upgrade old components to new and fully Freeview HD able units.
We also can upgrade your existing system to accommodate Sky Q customers. Currently many IRS systems only support standard Sky HD Recorder boxes. To receive Sky Q requires new equipment installing to the IRS system and then re tested for signal integrity.